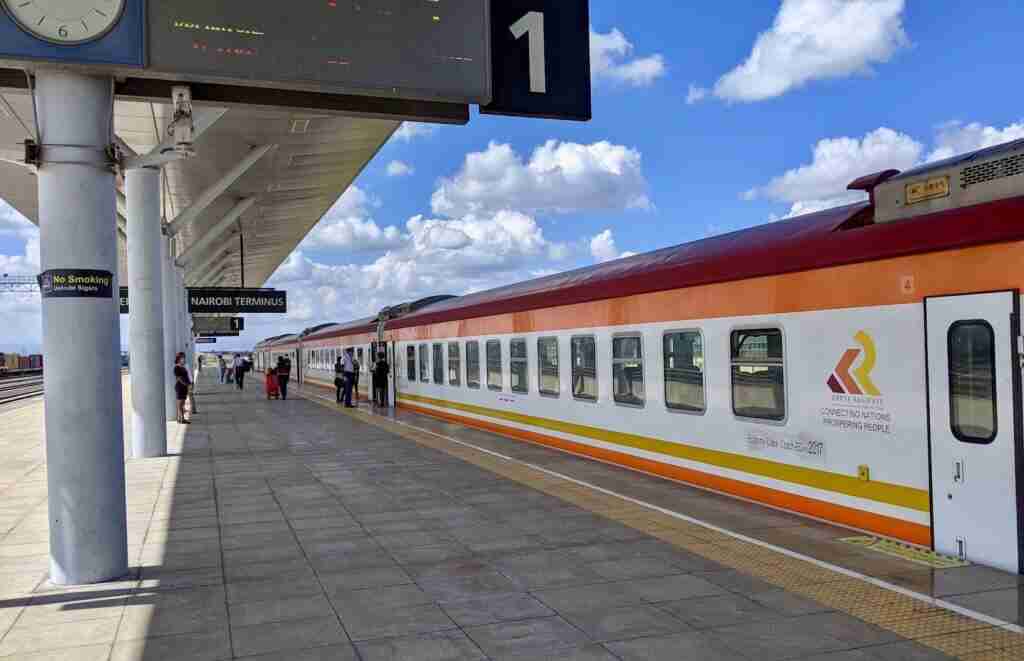 SGR to hotel transfers. Nairobi SGR train station is located at Syokimau, Nairobi. Found just south of the capital city. Built as Two trains with a bridge on top. Through us you can book your private transfer to any destination in Nairobi. To destinations in neighboring countries for example Tanzania.
Impala Shuttle provide quick and easy transfers to any destination from the the SGR train station to city hotels. Both Nairobi and Mombasa. Booking your transport in advance means a stress-free exit when you arrive. So you can start your holiday in style and comfort.
Our driver will be waiting for you in the arrivals terminal with a welcome sign with your name. Will take you. In the selected car directly to your destination, the car will be available only for you. Your family or your group, without having to share it with other people.
Similarly, we can take you from your hotel to the SGR station. Nairobi and Mombasa at the end of your stay. Remember to indicate the date and time of your return journey when you send us an email. Our online booking process is simple and secure. SGR to Hotel Transfers simply write us an email with your travel times, dates and destination.
Travel with unlimited luggage or passengers
Book the car that best suits your needs, from Sedans, Minibuses, to Coaches and luxury cars. We have a wide range of vehicles available at Nairobi and Mombasa SGR train stations. Remember that you are allowed one piece of luggage per passenger. If you are travelling with 6 pieces of luggage you will need to hire a vehicle with capacity for 6.
Where to meet your driver at the train station?
Your driver will wait for you in the parking lot of the SGR Train station. With a welcome sign with your name on it. You won't have to wait in long taxi queues and you won't have to travel with other passengers. SGR to Hotel Transfers you will travel safely in a vehicle in the best conditions.
How much does a transfer from or to the SGR train station cost?
The price of a transfer to and from the SGR train station to your destination depends on several factors, final destination and the chosen vehicle. To get a quote for your transfer service please send us an email with your hotel. Number of people in your group, SGR to Hotel Transfers dates etc. Our prices are final. There are no extras to pay and you will not have to pay anything to the driver on arrival. Remember that by booking in advance you can benefit from a much lower price than a traditional taxi service.
Kilimanjaro shuttles To Nairobi Moshi
Kilimanjaro Taxi Transfers offers the most reliable transportation from Kilimanjaro to Moshi. Similarly, you can book a shuttle or a private Kilimanjaro taxi.
Impala Shuttle is the premier airport transfer and shuttle services provider serving Nairobi Arusha Moshi Jomo Kenyatta International Airport, Kilimanjaro
Nairobi Arusha Moshi shuttle bus and private transfer services including Nairobi airports. Book ticket online for the best daily shuttle or private
Daily tourist shuttle bus transfers from Nairobi airport and city hotels to Arusha and Moshi towns in Tanzania Via Namanga border. pick up at pauls cafe or Costa cafe near Terminal 1 A and 1E.
Ngurdoto shuttle, offers shuttle bus services between Nairobi, Arusha, Moshi, Marangu Hotel , private car hire transfers Nairobi Jomo Kenyatta Airport.
Five Stars Arusha Shuttle is the most trusted way to travel into Kenya and Tanzania via Namanga border. Have 10 years of experience transporting our clients Nairobi Arusha Moshi Marangu
Nairobi Bus Hire is the home of all types of busses for hire in Nairobi. We specialize, with all types of different buses for rent. Therefore, whichever Nairobi bus.
About Impala Shuttles is a transport and tour company based in Nairobi, Arusha and Moshi in Tanzania. We offer daily transfers at 8.00am.
Marangu Luxury shuttles. Daily shuttles from To Nairobi Namanga Arusha kilimanjaro moshi marangu, we do pick from hilton garden in jkia, sheraton, crown plaza.
Nairobi Arusha Moshi shuttle bus and private transfer services including Nairobi airports. Book ticket online for the best daily shuttle or private.
Lake Nakuru National Park
Experience the best East Africa mountain climbing adventures scaling the highest mountains in Africa & short tours. Explore amazing mountain trips in East Africa with African Ascents. We're experts in Mt. Kenya, Kilimanjaro, and more since 2023. Join us today!.
Winner of the Good Safari Guide's 'Best Safari Property in Africa' award, Elsa's Kopje is widely renowned as one of the most elegant lodges in Africa. Set on a prominent hill in the heart of Meru National Park of northern Kenya, Elsa's Kopje is an iconic high-end lodge with connections to the legendary.
The migration season from July to October is considered the best time of the year to visit the Masai Mara. Game viewing is optimal at this time as there Masai Mara migration safari, experience the great migration in the world-famous Masai Mara, and the possibility of seeing the famous river crossing.
Sirimon is a direct route that contours the moorland across a series of ridges, dropping down to cross the Likii North River and then climbing the ridge to enter.
Corporate Safaris, Private Safaris, Balloon Safaris, Bush & Beach Safaris, Events management services, African Safari Tours, Kenya, Uganda, Tanzania.
Adventures Most trusted tour company in Kenya. Contact us for safari tours in Kenya, Uganda and Tanzania, East Africa Tours and Safaris in Kenya and Tanzania Combined.